Auto Subtitle Generator
Add Subtitles To Videos Instantly
Creating subtitles for video with online automatic subtitling software can save you a considerable amount of time. You'll be able to auto generate subtitles for videos in just a few minutes. You can also translate your subtitles automatically to 80+ languages. Try for free, no credit card required.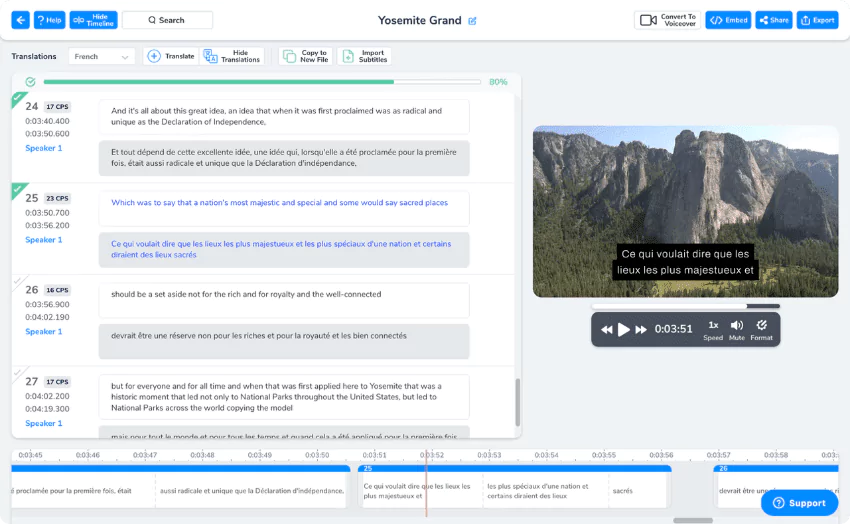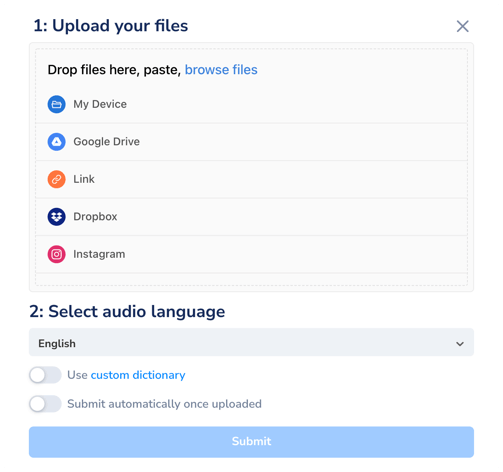 1

Upload Audio & Video File

Once the upload process is complete, subtitles will then be generated automatically based on the speech of your video file. You can upload any media type since Maestra cloud servers will handle the conversion. This is a fast and efficient way to add subtitles to your essay, a particular movie, or YouTube videos. All said and done in a matter of minutes where the desired content is now available to a wider audience.
2

Automatically Generate Subtitles

The subtitle file is automatically generated based on the speech of your video file. You can edit subtitles inside the online tool. Once you've proofread your subtitles, you can translate them into 80+ languages. There will not be a watermark, therefore you can then upload your file into a platform of your liking with the automatically added subtitles, free for up to 15 minutes.
3

Check and Export

Easily proofread your subtitles with our advanced subtitle editor and export in MP4 (with subtitle styles) or in various subtitle file formats such as SRT, VTT, SCC, STL, CAP, or TXT. This takes a matter of minutes and you'll have your desired content with automatically generated subtitles, ready to be consumed in the language(s) you need.
See Auto Subtitle Generator In Action
Widen your audience with an auto subtitle generator.
Adding subtitles with Maestra's video subtitle creator not only opens your content up for a wider audience but also improves SEO by letting Google crawl your videos.
Easily Edit Your Subtitles
With Maestra's subtitle editor you can easily make changes to your subtitles, and automatically translate subtitles to 80+ foreign languages at no additional cost.
Export as MP4 video with custom subtitle styling! Export your subtitles & captions in SubRip (.srt),
WebVTT (.vtt), Scenarist (.scc), Spruce (.stl), Cheetah (.cap), Avid DS (.txt), PDF, TXT
Audio Transcript Synchronization
Automatically Generated Timestamps
Speaker Diarization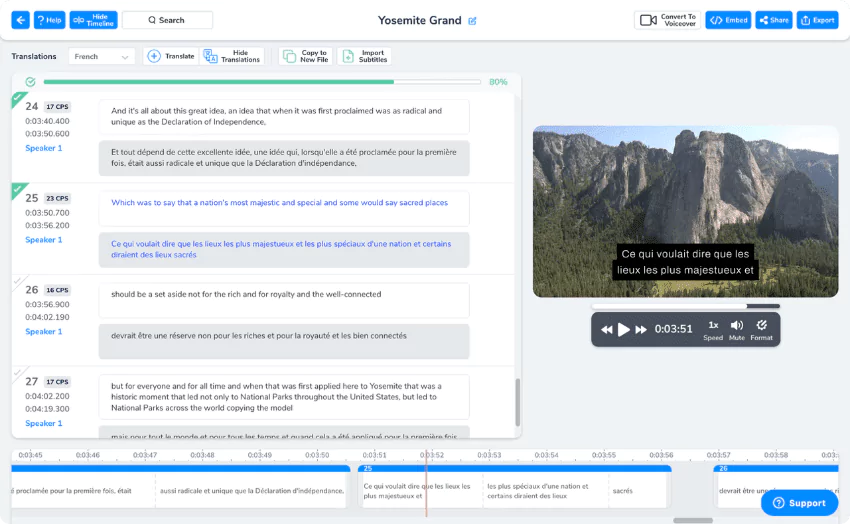 Custom Styling
While you add subtitles automatically to a video, Maestra also allows you to style your video by offering multiple fonts, sizes, and colors, as well as additional custom subtitle styling tools.
You can then have your video content rendered inside the cloud servers of Maestra so your device doesn't have to crumble between the intense load of media encoding. Your video should be ready to download within minutes and once it is ready you can download your subtitled video right through your browser.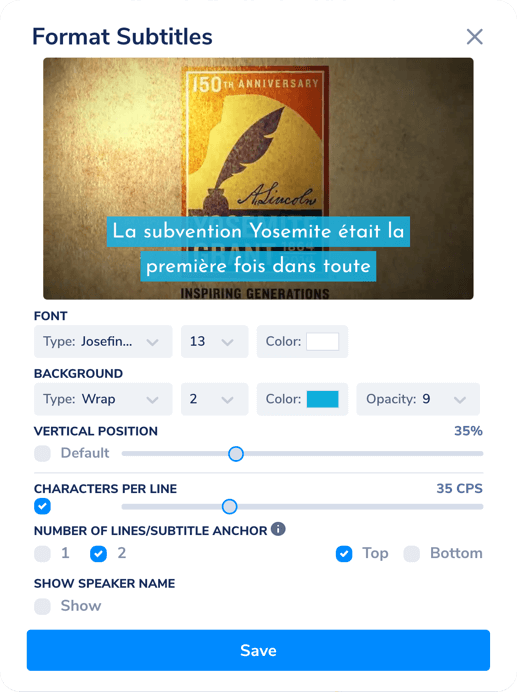 Maestra Teams
Create Team-based channels with view and edit level permissions for your entire team & company. Collaborate and edit shared files with your colleagues in real-time.
Collaborate and edit the subtitle file
Maestra's subtitle maker allows you to edit and share the auto generated subtitles in a collaborative environment.
Get Started Free
Secure
The process is completely automated. Your subtitles and media files are encrypted at rest and in transit and cannot be accessed by anyone else unless you authorize them. Once you delete a file, all data including the media files and subtitles will be instantly deleted. Check our security page for more!
Multi-Channel Uploading
Auto subtitle your videos by uploading from your device Google Drive, Dropbox, Instagram, or alternatively by pasting a YouTube or public media link.
Add Subtitles to Video
Beneficial for Translators
The time-saving aspect of automatic subtitle generation will benefit professional translators the most. As we said, manual translation demands long hours of concentration.
With Maestra, the tedious process is removed, allowing translators to work on proofreading and perfecting the translation instead of spending valuable hours translating every word.
Freelance translators can increase their work done per hour, allowing them to work for more companies and accomplish the same work they do in less amount of time.
More Than a Subtitle Creator
Maestra isn't just a platform that provides automatic subtitling. Automatic transcription and video dubbing are also available in our online client. Our online editor allows you to create automatically generated voiceovers for your videos with 100+ unique speaker voices.
Besides subtitling, utilizing the benefits of dubbing to your advantage will allow your content to break barriers and reach a global audience.
Accessible Content
Adding subtitles to a video has many benefits, one of which is increased accessibility. Hard-hearing viewers or viewers who can not completely comprehend a specific language can better comprehend the content if subtitles are in play. Whether it is social media videos like Facebook videos or a certain video you want to understand on a specific YouTube channel, subtitling an entire video with a simple click makes content accessible to everyone.
Generating subtitles in just a few minutes with Maestra's automatic subtitle generator will make your video file more accessible, increasing viewership and widening your reach.
Globalize Your Audience
Every content creator wants to see those big numbers when it comes to the video view count and breaking the language barrier is the way to do it.
Video subtitles created by an automatic subtitle generator will save time and allow your content to reach a global audience through translation and accessibility.
Automatically generate subtitles and add them to your video, choose which language you want the subtitles in and watch the viewership grow. Social media platforms are used by everyone and anybody can come across your content across the globe.
Make sure that your content is comprehensible to as many people as you can by adding subtitles to your video.
How to generate subtitles and add subtitles to a video file ?
1
Create your free account
Sign up now to Maestra auto subtitle generator and transcribe video to text free for 15 minutes, no credit card required.
2
Upload your file to the subtitle generator
Easily upload your audio and video files by clicking "+ New Subtitle" on the homescreen to start to start the auto subtitle generator.
3
View and edit easily
Your audio will transcribe automatically to text in just minutes with Maestra auto subtitle generator. Easily edit your subtitles and make any necessary changes.
4
Export or share
Share automatically generated subtitles online. Also you can export your subtitles in SubRip (.srt), WebVTT (.vtt), Scenarist (.scc), Spruce (.stl), Cheetah (.cap), Avid DS (.txt), PDF, TXT.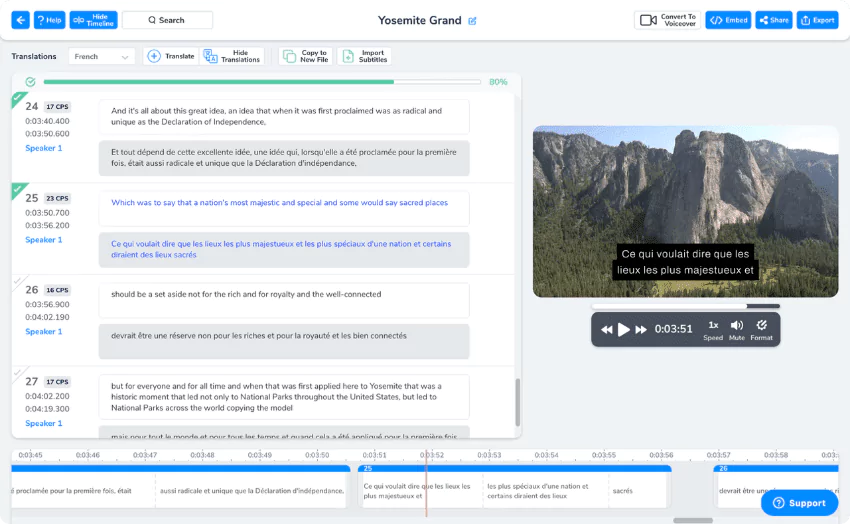 Need more information about subtitle generator?
Contact Us
Customer Reviews
What people are saying about Maestra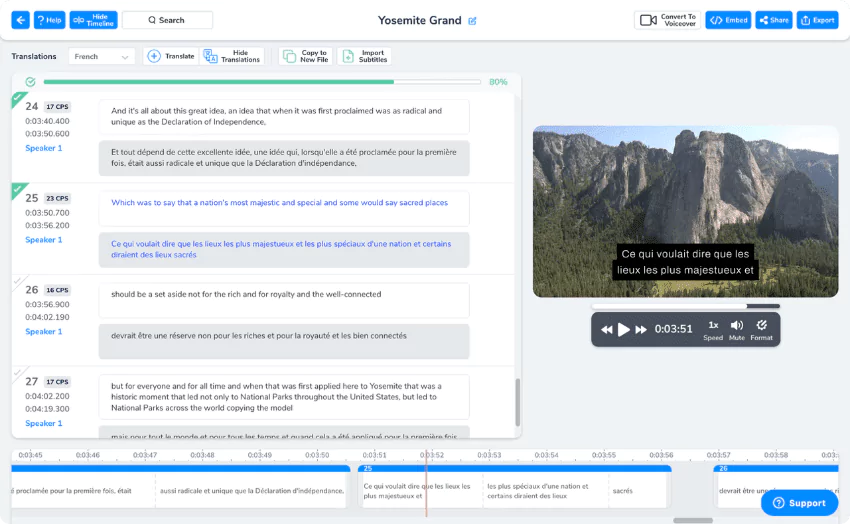 Register
Start adding subtitles to videos today.
Sign up for Maestra auto subtitle generator today! Reach a larger audience by automatically subtitling videos with Maestra's subtitle generating software. Get 15 minutes free when you sign up now.
Get Started Free