12 Must-Know Video Editing Tips for Beginners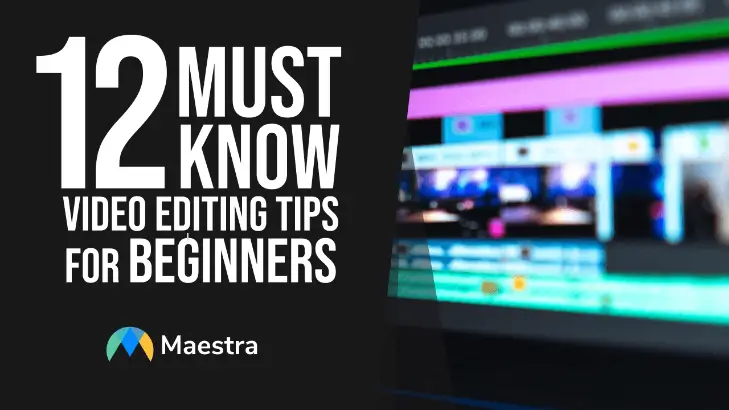 Video is a powerful medium for content creation of all types. Whether you are a casual vlogger, a teacher, or a business professional, video is helpful for educating and engaging your audience.
In a cluttered digital world, video stands out. It grabs (and keeps) people's attention. Even if you plan to use written content, video is an excellent place to start. It's now easier than ever to convert video to text and then turn that text into blogs, social media posts, and more.
But as the video space also becomes more competitive, creating quality videos becomes more important. While you don't need years of experience or the most expensive tools or technology, basic editing can go a long way in video creation.
In this guide, we break down some of the most important video editing tips for beginners.
Keep reading to learn more about editing your videos!
Choose Your Video Editing Software
Before you can get into the editing portion of video production, you must choose the right software. There are plenty of video editors out there, but not all are a good fit for your work and experience level.
Consider your goals, budget, resources, and experience level when choosing software. If you're primarily filming and making videos for social media use and don't have a strong video card in your computer, then a mobile app for video editing may be a good solution.
Those using a camera to film more produced vlogs or YouTube videos may prefer a more advanced editing solution like Adobe Premiere Pro. Keep in mind that free or less expensive software options can still help you produce high-quality videos.
A few ideas for video editing platforms to check out include:
Final Cut Pro
After Effects
DaVinci Resolve
Lightworks
Sony Vegas Pro
Autodesk Smoke
Apple iMovie
Windows Video Editor
Tell a Story
Video creation is about telling a story. That story might be an educational lesson for students, training for business teams, or personal creation. The best editing helps the footage tell a story.
Before jumping into the editing process, figure out your story and some details. Ideally, this should take place before filming, but it's still helpful to review before editing. Furthermore, you may be able to create a new story from footage you already have.
Based on your footage and story, plan out some editing guidelines. Make notes about where you may want to add royalty-free music or other effects.
Have an External Hard Drive Handy
Video files are huge, and they can quickly eat away at your computer storage. However, keeping the files can help you create future content, and they are often helpful to keep. Before you get started with video creation, it helps to have an external hard drive handy.
Keep your video files, including raw footage and complete videos, on the external hard drive. Work from your external hard drive and keep your computer clutter-free.
Leverage Cuts
One of the most important parts of the editing process is making cuts. Cutting refers to removing long pauses, closing dialogue gaps, and/or eliminating lines of dialogue altogether.
Cutting on action, or cutting midway between a part in a scene can help ensure smoother transitions.
Properly cutting your video helps make it more engaging, concise, and beneficial for your audience. The truth is that it's hard to film the perfect video. To save time on filming and still put together a useful video, it helps to make tight cuts. Not to mention, cutting the video can help you meet quotas for the running time of your video.
Include B-Roll in Sets of 3
B-roll, including motion graphics, helps bring a video to life. It helps visually break up a video and illustrate your point.
But if you don't include B-Roll correctly, then it won't have the desired effect. One simple rule of thumb is to include B-roll clips in sets of three. Add three B-roll clips in a row that are 1.5 to 2 seconds long each.
Use Keyboard Shortcuts
Time is of the essence for any project, and video editing can certainly take up a lot of it. Any time saving tips are worth using. One helpful video editing tip is to use keyboard shortcuts.
Much like you can "ctrl+c" to copy on Microsoft Word, you can use keyboard shortcuts to perform several in-app editing functions. However, each program has shortcuts specific to its software. You may be able to customize the shortcuts. Create a key you can easily reference while you're learning them, or consider an editing keyboard!
Use Basic Color Correction
Color is an important design element that can help your video stand out immensely. Making sure your coloring is consistent, appealing, and indicative of your brand is important. Most video editing programs allow you to color-correct your videos.
Here are two terms to know:
Color correct: Ensure consistent coloring of the footage in every scene.
Color grading: Give your video a specific look. (for example, indicate a flashback, emphasize a before vs after)
Include The Right Music
Visuals are only part of your video. Music plays a huge role. Even if you aren't making a music video, most videos can benefit from the right music and sound effects. Use music to create the right tone and help tell your story. Using music in educational videos can help keep them interesting, as long as it's not too distracting!
There are plenty of websites where you can get royalty-free music to include in videos. Some platforms allow you to search for and add music as well. A few tips regarding music in your videos include:
Adjust the volume of the music so it is not too loud for talking in the video.
Ensure smooth transitions between songs
Use headphones so you can best check the sound quality
Bonus tip: cut your videos to music for a smooth look. To do this, you'll need to choose and add the music BEFORE you make your cuts!
Add Graphics and Text
Depending on the type of video content you're making, text and graphics could be important. These are especially helpful for videos meant to inform or educate. Text and graphics can help reiterate a point and keep your audience focused.
Keep your graphics or text simple and consistent. Many editing software include pre-built templates you can use or customize to your liking. Of course, you may also be able to make custom graphics to include using Canva or other similar programs.
Always Review
After you've completed your video editing, it's tempting to export and upload as quickly as possible. Even if you've got a lot of videos to create, don't skip the review!
Watch your video back completely, possibly more than once. This helps you see how the edits look and if you need to make additional adjustments. It's a lot easier to do this before uploading your video than it is to have to make the changes and re-upload.
If you've been working on the video for a long time, it may help to take a break before reviewing and/or have some other eyes check out the project.
Export Using the Correct Settings
When the time finally comes to export your video, you want to ensure you use the correct settings. Using the wrong settings can lead to unnecessarily large files and/or poor quality once you upload them.
Consider where you plan to use the video. If you plan to upload the same video in several places, then you may need to render it more than once. However, you may be able to select a render setting that suits all of your upload needs.
It may also be tempting to choose the highest possible resolution. If your video will play on huge screens, then this may be necessary. But videos used on social media won't need to be rendered in the maximum resolution. Each site provides its recommended export settings. Some editing platforms also have pre-set render options (for example, you can choose the "YouTube" option to render for YouTube's ideal settings.
Add Subtitles
Captions can help make your video more accessible to people who are hard of hearing or who speak other languages. There are plenty of reasons to add subtitles to your video, but doing so can take a ton of time.
It's reasonable to think that your video editing process is the best time to add subtitles, but Maestra has a much more efficient solution. Using our automated software, you can instantly generate subtitles for your video. Avoid human error and issues like these movie subtitle fails with our auto subtitle generator.
All you need to do is upload your video file, select the language, and then start the automatic generation. Receive your subtitles back within minutes, and translate them to 50+ languages as well. Export to MP4 to have your new subtitled video file, or download the subtitles and add them to YouTube for subtitle options in many languages.
Happy Editing!
While video editing certainly takes time and practice to master, these helpful tips can help any novice video editor create excellent videos.
Just remember to take your time and be patient. Take plenty of breaks to refresh your mind, as editing requires a lot of attention. Over time, you'll quickly find that you improve and can create excellent videos without fancy tools or a ton of time.
If you want your videos to be even more accessible and reach a wider audience, then use Maestra's automatic subtitle generator to add subtitles in over 50 languages. Try it out for free or request a demo to learn more about how this tool works and how it can benefit you!
So now it's time to roll footage and get to editing!