Everything You Need to Know About LinkedIn Video in 2022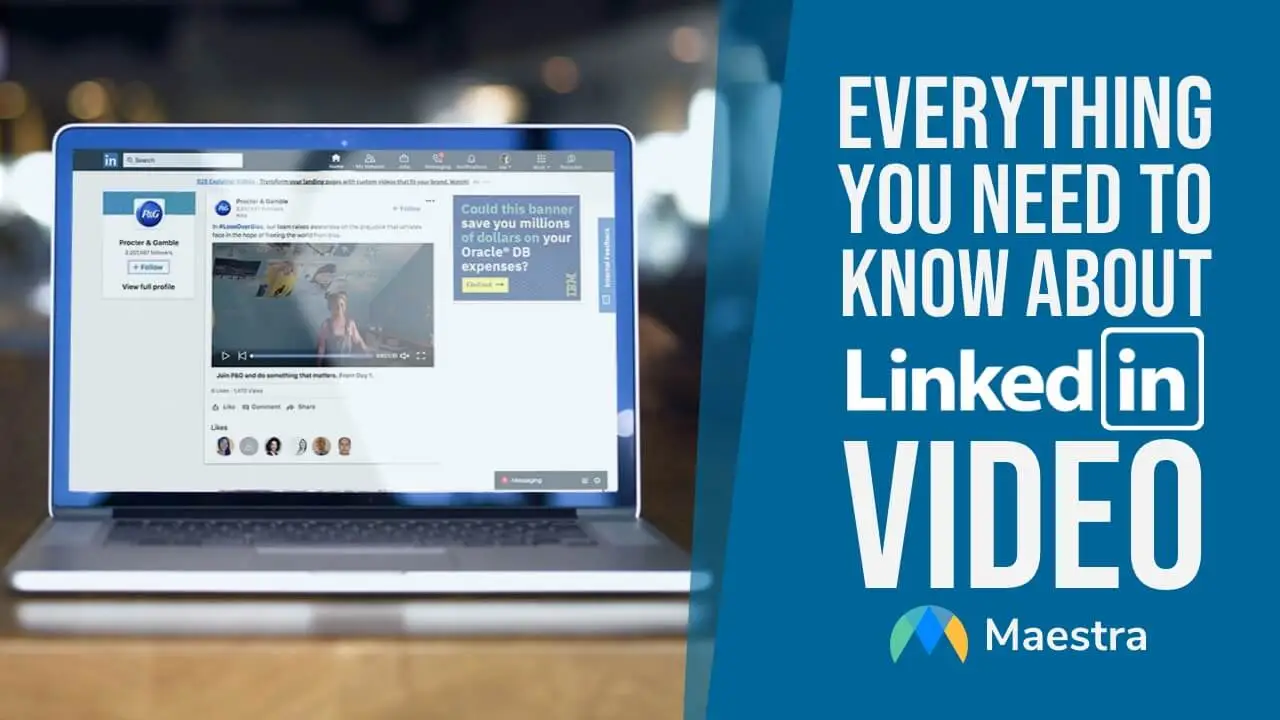 By now, we are all mostly familiar with the platform LinkedIn. Founded in 2002, the social media platform grew in popularity with the rise of other social networking sites such as Facebook.
Many have even dubbed LinkedIn as the "professional Facebook". LinkedIn describes itself as being "the world's largest professional network with more than 850 million members in more than 200 countries and territories worldwide."
After being acquired by Microsoft in 2016, the team at LinkedIn has strived to meet the needs of its consumers by creating new services such as LinkedIn Video.
It's great news for LinkedIn influencers, entrepreneurs, educators, and other content creators who use the platform. Video content is a powerful way to capture the attention of your target audience, and it stands out on many channels including LinkedIn.
Just like Facebook videos or Instagram videos, LinkedIn feed videos can help find your target audience, build brand awareness, and boost your marketing efforts overall.
By using LinkedIn Video, you can connect with your audience in ways that may have never been possible before.
What is LinkedIn Video?
LinkedIn video was launched in 2017, and since then it has been one of the most beloved features of the platform. It offers a lot of opportunities for consumers, businesses, and professionals to look into. There are different components that make up the LinkedIn video service, such as ad campaigns, live video services, and embedding pre-existing videos.
The creation of LinkedIn videos has assisted many companies and individuals alike. Using video, you can better connect with audiences and promote different concepts and competencies related to their field of study or profession.
There are many opportunities for you to use the LinkedIn Video service. Different types of videos may work better for different audiences and users alike. If you are a company or large business, some uses may be previewing an upcoming product, service, or event, spotlighting a team member or employee, taking customers behind the scenes of your organization, and posting advertisements.
However, individuals may benefit from videos where they can share the good they are doing, announcements of professional accomplishments, and/or explanations about jargon in their industry or field of work.
LinkedIn Video Ads
One aspect of this objective is that companies, businesses, and individuals can create targeted video ad campaigns to be posted on the LinkedIn feed. While there are other video content services such as YouTube and TedTalks that can be geared towards specific audiences, LinkedIn video allows you to create a video marketing campaign for a targeted audience.
LinkedIn themselves say that the three main positives to using video ads are growing brand awareness and loyalty, deepening relationships with professionals, and the ability to measure the impact of your video campaigns.
There are particular advantages to using the video services that LinkedIn Video Ads provide, such as increased engagement and interaction with your audience (as video posts receive approximately three times more engagement than just straight-up text posts).
This is important if you want to drive more people to your company page. If you are looking to start a new video ad campaign, LinkedIn is there to help you through every step of the way and has an outlined process that is easy to follow.
How to Create LinkedIn Video Ads
There are three key steps to the video ad campaign process: choose your campaign, create videos that play your objective, and prove your video ROI. The most difficult part is probably the first, as you are just getting started out. While it is valuable to you to invest in this process, it can be difficult to navigate if it is your first time working on an online video campaign.
You, through the process of creating an ad campaign, are likely to reach 20% more of your target audience than if you were to just post photos or text. You can also choose to make your campaigns public or use the Direct Sponsored Content feature to personalize or test video ads for specific audiences, without publishing on your LinkedIn Page.
There will be a few things that you need in order to get started with creating your ad campaign. You will need:
Campaign Manager access or higher on the ad account
A LinkedIn Page or Showcase Page associated with your ad account
Super admin, content admin, or Sponsored Content poster access on the LinkedIn Page
The reason for this is that only Page super and content admins can disable, delete, or reply to comments as the Page on your video ads. Learn more about Campaign Manager user roles and LinkedIn Page admins. After you have established those resources, there are five steps to follow in order to create your video ad campaign:
Sign in and create and ad campaign and campaign group
Choose your advertising objective and define your audience
Create a budget, schedule, and bid
Add creatives and attach an optional Lead Gen From
Review and launch your campaign
Detailed steps to meet these particular objectives can be found here.
If you need assistance, LinkedIn does provide resources such as customer services, a project guide, marketing labs, and customer success stories to help guide you through the process or learn more about the benefits of video ads. There is added flexibility with creating your campaign, as you are able to choose aspect ratios that fit your campaign, select from a variety of video specs (single image ads, carousel ads, message ads, etc.), and
After you launch your campaign, you can check in on the success of your campaign at any time. A particular benefit to using LinkedIn video ads is their ability to provide accurate data analytics for your campaigns. This is very important when wanting to gauge your return on investment (ROI). The data analytics will provide you with information about your campaign.
The system will measure conversions, analyze the campaign's overall performance, allow you to have a better visualization of your audience (seeing which populations watched the video, for how long, and which interactions occurred most from different populations), and keep a pulse on your biggest opportunities so that you can capitalize on trends.
LinkedIn Native Video
The native video process is quite a bit different than the ad campaign one, but it is also simpler. Most people will be more familiar with this kind of process when they are thinking about video sharing, as it is similar to other social media sites. The process of posting videos is pretty typical to sites such as Facebook, Twitter, or Instagram.
The ability to use LinkedIn Native video is open to all LinkedIn users and is not blocked behind having a premium membership, so it is a service that you should take advantage of.
Native video will mostly be used by individuals wanting to share small snippets of their life or by organizations sharing training, conversations, or guest speakers. While you can post videos that are longer (up to 30 minutes long), it is recommended to not upload a video that is longer than approximately 10 minute so that you do not lose your audience's attention and engagement. Regardless of the video length that you settle on, it can be helpful to add subtitles to the video for better accessibility and engagement.
You can also embed videos from other sources so that they will automatically play in your timeline post, as opposed to having someone have to click on a link to watch the video. Embedded videos are easy to view as a regular browser and will encourage followers to view your profile more often than if you were to just share the link as a text post.
It can be nice to share the great things you are doing with your work and celebrate the accomplishments you have reached, however you want to make sure you are engaging your audience in the intended way. The best practice may be to instill a "humble brag" about your work so that there is a more genuine connection between you and your audience.
Best Practices for LinkedIn Videos
There are some things that you should keep in mind no matter what type of audience you are attempting to target or video you are posting.
Mobile Users
One that is very important to remember is that you need to plan for mobile viewing. The majority of your audience will connect with your content through their phone or mobile device.
LinkedIn has done research about their audience engagement with their services and they state that 91% of their members watch videos on mobile devices. In fact, 57% of all engagement with LinkedIn content takes place on mobile. If you are not considering this important figure, then you are alienating the vast majority of your potential audience.
Video Quality
If you want to make sure your videos look professional, there are simple things you can do to implement good recording practices for your videos.
Record in a well-lit area. If needed, create your own lighting system.
Use a microphone to amplify your voice and reduce background noise.
Ensure a clean, professional background.
Add simple transitions or slides
Reduce dead time and polish your video with some simple editing. A mobile video editing app may help!
Consider video orientation. Portrait-style may work best for a short ad you want to repurpose on other social media. For longer videos, landscape is often preferred.
Add Subtitles
Make your video more accessible by adding subtitles. Only around ⅓ of LinkedIn users always use their sound. Many viewers watch without sound, like while commuting or any other time the background noise is loud. Additionally, adding subtitles can help those who may have hearing or language difficulties understand better.
Even if you have sound in your video, not everyone will be able to listen to it or even understand it fully. Closed captions should be a part of your video when there is a message being carried over by voice so that all members of your audience can engage in your message.
Maestra can assist you by creating these captions for your video. Adding subtitles helps increase revenue by 16% for video ads, so it's very important for your LinkedIn video content creation.
Hook Your Audience
Add some creativity to your video content to grab your audience. The first six seconds can make or break your video for an audience member. Set a good tone right away so that your audience is hooked. If they are not engaged in that short amount of time they will simply swipe away.
Video Tone
Much like any form of content you create, the tone should match your target audience. The tone of your video can be funny, serious, or something entirely different, however, your content should never be demeaning or offensive to your audience.
Leverage your market research and brand voice to create videos that strengthen the relationship you have with your audience. The idea of offending your audience should not deter you from being comical, however, it should be carefully considered when you are brainstorming.
Listen to the Metrics
Not every campaign will be a hit, but make sure that if you are looking to make improvements to engage with your audience. Take their feedback and look at the analytical data that you can access from your video post.
Use this data to figure out which video content of yours does best. Try to replicate video strategies that work for your brand, and steer away from those that do not. Over time, refine your LinkedIn video marketing strategy based on the data you collect.
Start Your LinkedIn Video Strategy Now!
If you are looking for new ways to engage with your audience over LinkedIn, video content is the way to go. LinkedIn video is a vital content strategy to use on the platform in 2022 and beyond, and the basics above can help you make the most of it.
With our video-to-text services, Maestra can help you with your video content on LinkedIn and beyond. Get started with your free trial today!